Mouth~ Indie Food Coupon Code for Valentines Day!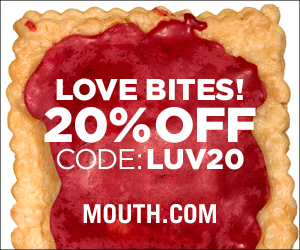 Disclosure: This post contains affiliate links
In honor of February 14th coming up Mouth.com is sharing the love with 20% off sitewide when you use the code LUV20. If you're not familiar with Mouth.com they feature small batch indie food made by real people, not huge companies. 
They have unique specialty items ranging from around $2 and up. They seriously have some of the most unique and fun food items I've ever seen! They also offer over 16 tasty subscription boxes to choose from. If you get a chance check them out!
Shop Mouth.com for tasty and unique Valentine's Day gifts! Use code LUV20 for 20% off indie chocolate, exquisite sweets, handcrafted wine and spirits, and more!