Dealspotr: Deal Seekers Social Network Site
Disclosure: This post contains affiliate links. See disclosure.
What is Dealspotr?
Dealspotr is a way for finding and sharing the latest coupon deals. Users just like you scour the internet and post the latest and hottest deals. You can search for deals by brand, store or product type. It's also more than just a coupon site. Users can follow other's, contribute to the community by spotting deals, earn points and more! It's a super fun and interactive way to find and share the best deals.
How Do I Use Dealspotr?
After signing up, users can post deals, and other users can vote on your deals earning you "karma points" Karma Points can then be redeemed for gift cards. It's completely FREE to join! Anyone can join and post deals for users, however, to make sure the coupons or discounts are valid, they require you to provide a screenshot of the deal or item.
Even if you don't want to post a deal, Dealspotr is a great way to find the best deals online. You can even follow coupons for certain stores such as Bath & Body Works, Toys R Us, and more to find the latest deals and coupon codes.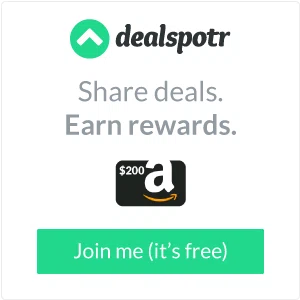 Why Should I Join Dealspotr?
It's completely free to join and besides finding the best deals, coupons and discounts you can also earn gift cards! The more active you are, the quicker you can earn! You can earn points by posting deals, spotting hot deals posted by others, commenting on posts, and even for referring friends!
You can also earn 5,000 points just for signing up when you use my referral link here https://dealspotr.com/?join=simplemomreview or use my personal promo code SIMPLEMOMREVIEW
It is the best place to find unique and unduplicated discounts since they are posted by users just like us!
The site is very easy to navigate and an easy way to save money while being a part of a great social community! You can find out more by going to www.dealspotr.com and remember to use my personal promo code SIMPLEMOMREVIEW to snag 5,000 points just for signing up!
For my fellow bloggers, you can also join the Influencer Network and receive an automated Upgrade to Verified Influencer status when you use the link https://dealspotr.com/join?source=influencer and my access code
I discovered Dealspotr several weeks ago and have posted and found several deals. Leave me a comment below if you have any questions!